Regular price
Rs. 250.00
Sale price
Rs. 250.00
Unit price
per
Sale
Sold out
Product Sales So Far: 1005+
Availability : 50 item(s) in stock!
Estimated delivery : Dec 15, 2023 - Dec 23, 2023.
Description:
About Organic Jaggery Chai Masala by Organics4U
Craving a warm, comforting cup of chai with a twist? Look no further! Organics4U proudly presents our delightful Organic Jaggery Chai Masala. Crafted with love and care, it's the perfect blend of organic goodness and traditional flavors. Elevate your chai experience with Organics4U's unique Jaggery Chai Masala.
Free shipping and returns available on all orders! We ship all India domestic orders within 5-10 business days!
Share
Store in a cool, dry place away from direct sunlight.Seal the packaging tightly after use.Enjoy the perfect chai moment every time!Sip, savor, and delight in the goodness of Organics4U's Organic Jaggery Chai Masala – a true treat for your senses!
View full details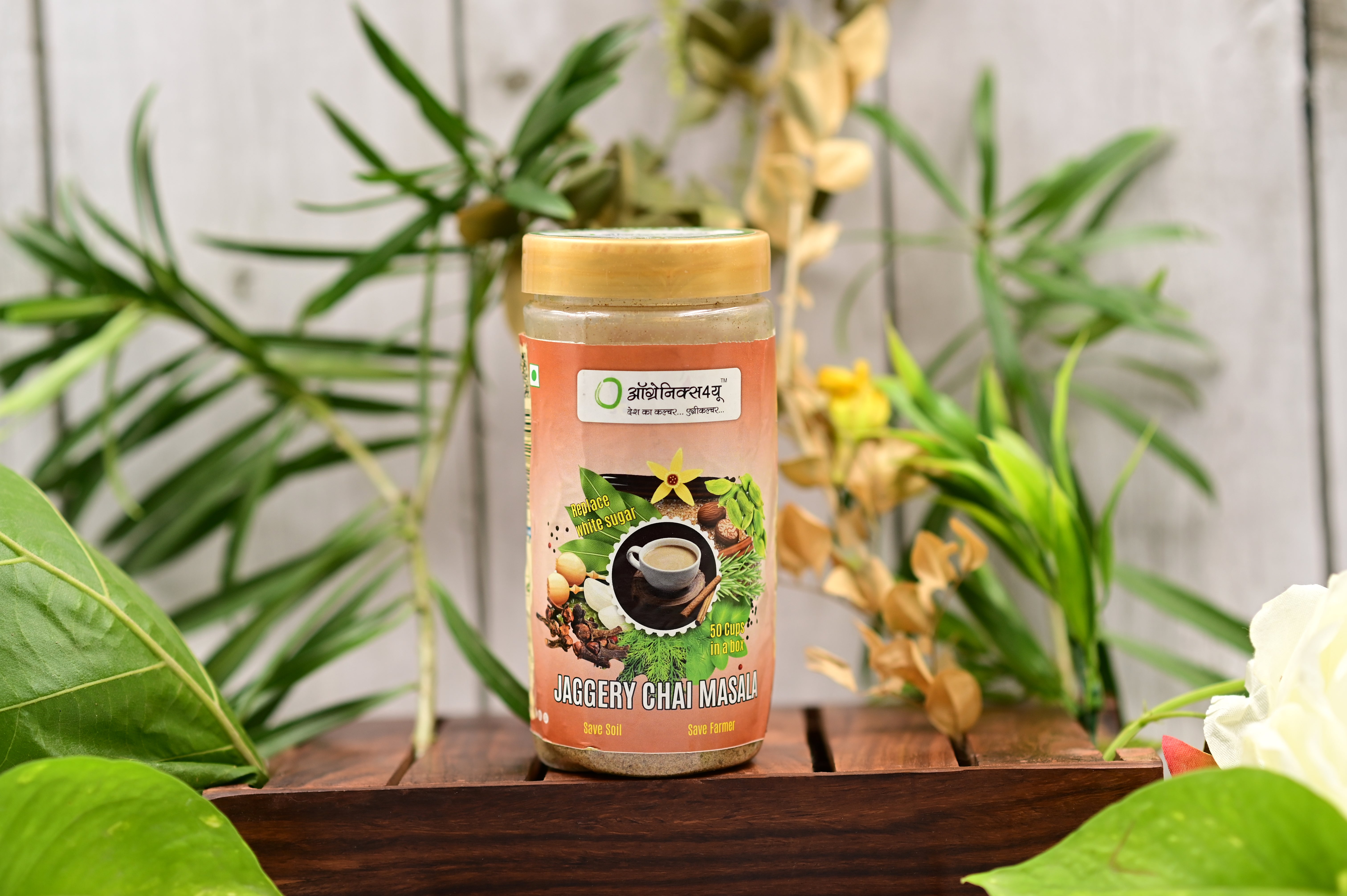 About Organic Jaggery Chai Masala by Organics4U
The journey of our Jaggery Chai Masala begins with the finest organic ingredients, carefully selected for their quality and purity. We believe in bringing you a chai masala that not only tantalizes your taste buds but also reflects our commitment to organic excellence.

Handcrafted Blend : Our expert blenders meticulously combine the richness of jaggery with a blend of aromatic spices, creating a chai masala that's both flavorful and wholesome.

Pure Jaggery Goodness : We source organic jaggery from sustainable farms, ensuring that every sip of your chai is a sip of pure, unrefined sweetness.

Eco-Friendly Packaging : Caring for the environment is as important as crafting the perfect chai. Our eco-friendly packaging ensures that you enjoy your chai guilt-free.

We prioritize organic farming practices, ensuring that our chai masala is free from pesticides and chemicals.

Organics4U's Jaggery Chai Masala is a harmonious blend of jaggery sweetness and aromatic spices, creating a chai experience like no other.
Healthful Benefits of Organics4U's Jaggery Chai Masala
Natural Sweetness

Jaggery provides natural sweetness without the need for refined sugar, making it a healthier choice.

Digestive Aid

The blend of spices in our chai masala aids digestion, promoting a happy and healthy gut.

Balanced Indulgence

Enjoy the warmth of chai with the goodness of jaggery, finding the perfect balance between indulgence and well-being.
Choosing a selection results in a full page refresh.
Opens in a new window.