Regular price
Rs. 425.00
Sale price
Rs. 249.00
Unit price
per
Sale
Sold out
Product Sales So Far: 1004+
Availability : 49 item(s) in stock!
Estimated delivery : Dec 15, 2023 - Dec 23, 2023.
Description:
About Organics4U's Lychee Raw Honey

The lychee honey market is constantly evolving among food seekers. Introducing Organics4U's best product – Lychee Raw Honey. Made with a lot of care and effort, this special honey brings the wonderful flavor of lychee flowers, giving you a pure, natural sweetness right from the beehive.
Free shipping and returns available on all orders! We ship all India domestic orders within 5-10 business days!
Share
Experience the pure beauty of lychee flowers with Organics4U's Lychee Raw Honey. Crafted with care and enthusiasm, this golden nectar adds nature's sweetness to your food. Enhance your cooking and enjoy the goodness of this special honey. Order now to enjoy the amazing taste of Lychee Raw Honey, only from Organics4U.
View full details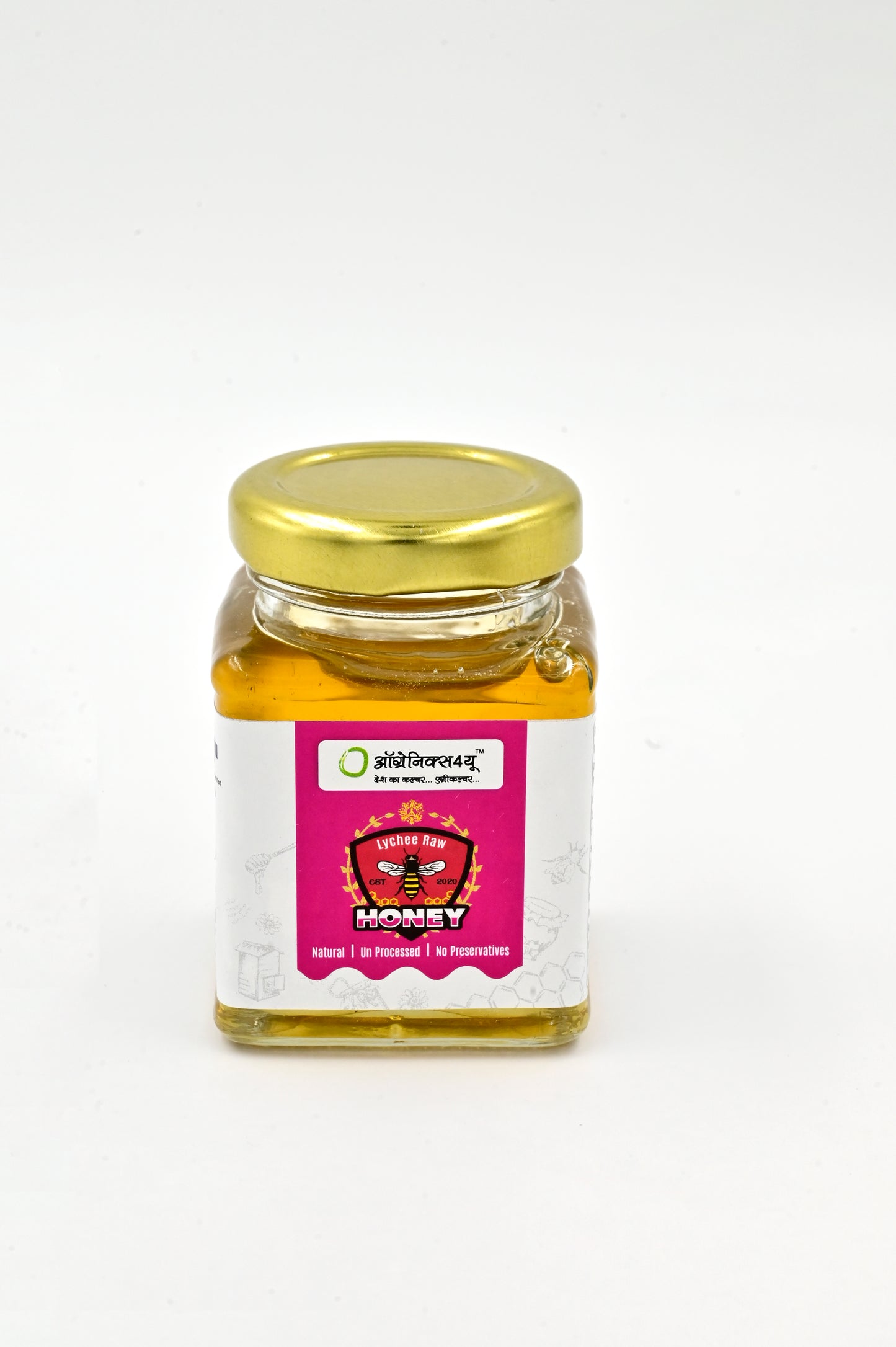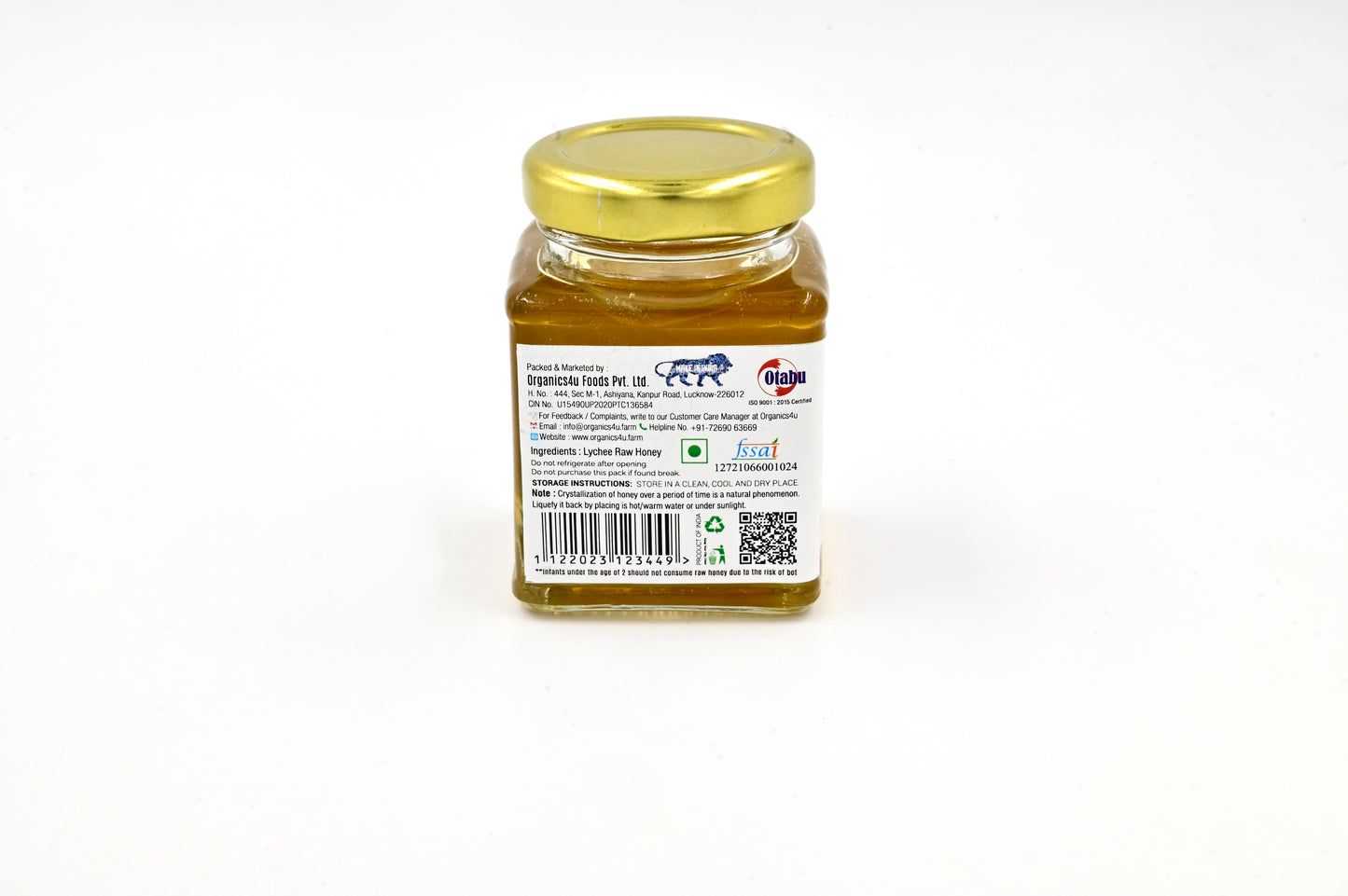 Organics4U's Lychee Honey
Experience delightful new flavors with the arrival of Organics4U's Lychee Raw Honey:

Nectar Collection: Our skilled beekeepers carefully collect nectar from lychee flowers, picking only the most fragrant ones.

Pure Preservation: The gathered nectar is taken to our modern facilities, where we preserve it carefully. We use modern methods to keep its natural goodness intact.

Top Quality: At Organics4U, we have strict quality rules, making sure our Lychee Raw Honey is free from extras and impurities.

Created with Care and Passion: Our process of making honey involves careful steps.

Collecting: We carefully gather nectar from lychee flowers when they are blooming the most, to capture the best flavors.

Extraction: We take out the nectar gently, keeping all the good stuff and getting rid of anything not needed.

Bottling Perfection: Every jar of Lychee Raw Honey is filled with great care, ready to add delicious taste and smell to your table.

Check out these indicators of high-quality in Organics4U's Lychee Raw Honey:

Clarity: Our honey has a pure and clean appearance.

Pleasant Smell: You can smell the lovely scent of lychee flowers in every jar.

Texture: The honey's smooth texture shows it's natural and untouched.

Our Lychee raw honey comes from lychee tree flowers. It has a sweet flowery smell and a special taste that mixes flower and fruit flavors. This honey looks amber and might be good for health because it's raw.

We carefully classify our Lychee Raw Honey into different grades:


This is our finest quality honey, it looks great and tastes amazing.

The grade might not look completely the same throughout, but it still gives you fantastic taste and good nutrition.
Organics4U's Lychee Raw Honey Health Benefits
It makes your immune system strong by fighting bad stuff in your body.

It takes care of your heart by stopping swelling and helping your blood move around.

If you have pain or something swollen, it can help make it feel better.

If your throat hurts or you're coughing, it can help you feel less bad. It also helps with yucky mucus.

If you get a cut or a scrape, it helps it heal and fights germs.

It helps your tummy work well, stops tummy troubles, and keeps the good stuff in your tummy happy.
What Exactly Is Lychee Raw Honey?
Lychee Raw Honey is a wonderful gift from nature and the hard work of bees. This special honey is made by bees that gather nectar from lychee flowers, giving it the wonderful taste of these beautiful blooms. The bees change this nectar into a tasty golden liquid that's full of flavor and goodness. Organics4U makes sure that each jar of our Lychee Raw Honey keeps the realness of this process, giving you a pure and natural taste of nature's best.
Modern Uses of Lychee Raw Honey
Organics4U's Lychee Raw Honey isn't just tasty – it has cool uses:
Sweetener: Put it in tea, coffee, smoothies, or juices instead of sugar. Also, use it in cakes and bread for a yummy twist.
Drizzle: Pour it on pancakes, yogurt, or fruits for a tasty and healthy upgrade.
Salad Dressing: Mix it with oil, vinegar, and spices for awesome homemade dressings that make salads extra special.
Marinades: Make meat or seafood super tasty and tender by adding this honey to marinades.
Baking: Add this honey to cakes, muffins, or bread for a unique flavor that balances everything out.
For your skin, this honey rocks too:
Moisturizer: Spread it on your skin to keep it soft and smooth.
Exfoliator: Mix it with sugar or oatmeal for a gentle scrub that takes away dead skin.
Mask: Put it on your face for 10-15 minutes for awesome, healthy skin.
So, Organics4U Lychee Raw Honey is awesome for eating and great for your skin too. Enjoy it in lots of easy ways!

Medical Use and Studies
Research shows that Lychee Raw Honey may offer the following health benefits:
Antibacterial Properties: Honey's herbal properties can also be useful in fighting certain infections.

Cough Relief: It should be soothing to irritated throats and coughs.
Profound History of Lychee Raw Honey
Lychee Raw Honey has been loved by cultures for generations for its sweetness and potential medicinal properties.

Choosing a selection results in a full page refresh.
Opens in a new window.